Products
Andrographis Extract - 42895-58-9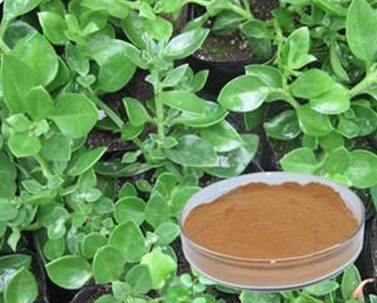 Andrographis Extract
CAS NO.: 42895-58-9
Active Ingredient: Andrographolide 5%-98%
Sieve Analysis: 100% through 80 mesh
Test Method: HPLC
Andrographis Extract description
Latin Name:Andrographis paniculata (Burm.f.) Nees
Variety:Andrographis Extract
The plant form of Andrographis Extract:
The main ingredient of Andrographis Extract is Andrographolide. Andrographolideis a labdane diterpenoid that is the main bioactive component of the medicinal plant Andrographis paniculata. Andrographolide is an extremely bitter substance extracted from the stem and leaves of the andrographis paniculata. When in bloom, Andrographis exhibits small white flowers. The plant is grown for medicinal purposes in China and India. Andrographolide has been shown to be effective against certain cancers and is an effective purgative.
Functions of Andrographis Extract:
1. Andrographolide plays an important role in anti-pathogenic microorganism function.
2. Antipyretic effect.
3. Anti-inflammatory effect.
4. Andrographolide has positive effect on organism immune system.
5. Andrographis has an obvious effect in termination of pregnancy.
6. Cholagogic effect and to protect liver.
7. Anti-tumor effect.

Previous:Rhodiola rosea root extract - 10338-51-9
Next:Ferulic acid - 1135-24-6