Products
Glucosamine hydrochloride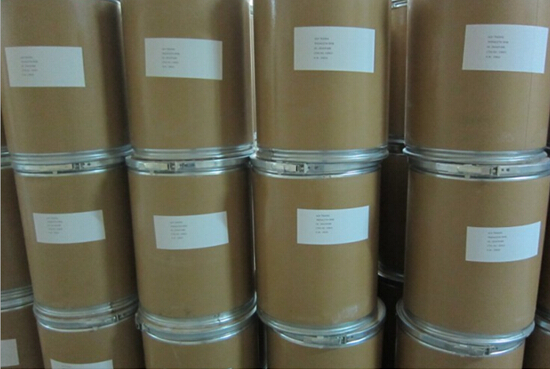 Product Name: Glucosamine hydrochloride
D-Glucosamine Sulfate HCL
CAS No.:66-84-2
Molecular Formula:C6H13NO5.HCL
Molecular Weight:215.63
Purity : 99.0 % Min
Standard: USP
Character:
White crystal powder l, odor free, slightly sweet, soluble in water, sparing soluble in methyl alcohol, not soluble in organic solvents, such as ethyl alcohol.
Glucosamine (C6H13NO5) is also called as glucosamine, glucamine, or aminoglucose, which is a kind of compound after a hydroxyl of glucose is replaced by amidogen. Glucosamine is an important precursor in protein or fat glycosylation reaction. Glucosamine derivative N-acetylglucosamine is a monomer of chitin, and chitin is widely existed in exoskeleton and fungal cell wall of arthropods. Another derivative N- acetyl muramic acid is the basis of bacterial cell wall. Glucosamine is one of monosaccharide with the most abundant content in nature. In industry, glucosamine is formulated with the use of exoskeleton of shellfishes. Glucosamine is generally used as food for cure of osteoarthritis.
Glucosamine hydrochloride is extracted from natural chitin, and it a kind of marine organism agent and the basis of chondroitin sulfate. It can promote composition of human body's mucopolysaccharide, enhance viscidity of synovial fluid, and improve metabolism of cartilago articularis, which is in favor of repairing cartilago articularis, with obvious diminish inflammation and abirritatic effects. It can promote injection effects of antibiotics, be treated as nutrition assistant of diabetic patients, cure enteritis in place of cortisol, and have certain curative effects on curing rheumatic arthritis and hepatitis B. In addition, it can be used as additives of cosmetics, feed, and food. Therefore, glucosamine hydrochloride is popular in the international market.
Application:
Mainly applied in medical supplies. It has important physiological functions on human bodies, participating in liver and kidney detoxification, playing an role in anti-inflammatory and liver protection, stimulating the growth of bacillus in infants' intestinal tracts, having favorable curative effects on curing rheumatic inflammation and gastric ulcer, and restraining cell growth. It is the major raw material for compounding antibiotics and anti-cancer drugs. It can also be applied as additives of food, cosmetics, and feed, with very wide application.


Testing item

Specification

| | |
| --- | --- |
| Appearance: | White crystal |
| Content: | %99.0-101.0 |
| Specific rotation: | +72.0°+2.0° |
| Loss on drying: | ≤%0.30 |
| Residue on ignition: | ≤% 0.10 |
| Heavy metal (Pb): | ≤ppm10.0 |
| Ferric salt: | ≤ppm 10.0 |
| As: | ≤ppm0.50 |
| PH value: | 3.5-5.0 |
| Chloride: | %16.2-16.7 |
| Total bacterial count: | ≤cfu/g1000 |
| Mold count: | ≤cfu/g100 |
| Escherichia coli: | ≤cfu/g can not be picked up |
| Salmonella: | ≤cfu/g can not be picked up |
Previous:High molecular weight grade Sodium Hyaluronate
Next:Glucosamine sulfate sodium salt