Products
Grape Seed Extract - 84929-27-1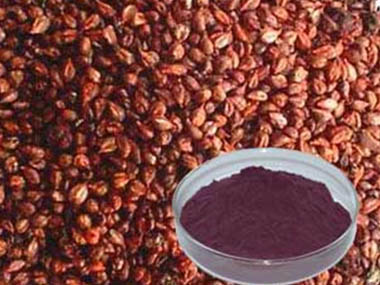 Grape Seed Extract
CAS NO.: 84929-27-1
Active Ingredient: Proanthocyanidins: 95%
Polyphenols: 70-95%
OPCs: 30-85%
Monomers: 10-40%
Sieve Analysis: 100% through 80 mesh
Test Method: HPLC; UV
Grape Seed Extract description
Functions:
Latin Name: Vitis vinifera L.
1. Being one of the most powerful antioxidants that fights free radicals.
2. Being 20 times more potent than Vitamin C and 50 times stronger than Vitamin E.
3. Protecting the heart and blood vessel.
4. Improving retinopathy caused by diabetics, atherosclerosis, inflammation and aging.
5. Improving athletic performance, memory and healthy lifestyle.
6. Preventing and reversing Alzheimer Disease.
7. Improving sexual function, PMS and menstrual disorders.
8. Helping to treat ADD/ADHD.
9. Anti-aging and anti-wrinkle.
10. Anti-cancer, anti-inflammation and anti-allergic activity.

Previous:Ginseng Extract - 90045-38-8
Next:Green Tea Extract - 84650-60-2