Products
Chymotrypsin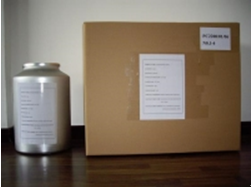 Source: Bovine (Porcine) pancreas
General description
Chymotrypsin which is the endopeptidase extracted and separated from the fresh pancreas of bovine (or porcine).
Primary structure and spatial structure of α- Chymotrypsin have been clearly explained, which is a single peptide
chain composed of 245 amino acid residues, with 5 pairs of disulfide linkage in the molecule. It is white and light
yellow crystal or amorphous powder, and easily soluble in the water, but insoluble in organic solvent. Relative
molecular mass is 24000, and the optimum PH is 8~9. It is stable at a dry state, but will be quickly deactivated
in water solution, most stable in the water solution with PH3~4. When it acts on the protein, it will hydrolyze
the peptide bond formed by the carboxyl of L-tyrosine and L-phenylalanine in priority.
The high purity Chymotrypsin. is purified by re-crystallization, and then by Ion Exchange Chromatography and ultra-filtration.
Application
In the clinical, it always used to general trauma, wound healing that after surgery, anti-inflammatory, prevent local edema,
hematocele, sprain hematoma, partial swelling that after breast surgery, tympanitis, rhinitis and so on.
Use for the removal of cataract, Loose the lashes muscle ligament, reduce the cyst rupture and the hurt of retina.
Besides, the combination use with the Trypsin and used as a broad-spectrum anti-inflammatory drugs.
as the auxiliary medicine of antibiotic and antifungal drugs,it is widely used in the field of animal medicine
and animal health industry.
Specification
Items

Specification

Method

Appearance

White or almost white lyophilized powder

USP35

Identification

No purple color develops within 3 minutes

USP35

Loss on drying

No more than 5.0%

USP35

Residue on Ignition

No more than 2.5%

USP35

Microbial limits:

Pseudomonas aeruginosa

Salmonella

Staphylococcus aureus

Absent

USP35

Trypsin

No more than 1%

USP35

Assay

Chymotrypsin≥1000 USPunits/mg powder

USP35

Storage
Sealed, Dark, at temperature 2-8℃
Previous:Trypsin
Next:Hyaluronidase